Rise and shine my little fitness bugs! The sun is shining and ready for you to take on today's challenges
I felt pretty shitty for not getting up to do my morning run yesterday, but I made up for it by completing 'No more trouble zones' and 15 min of HIIT sprints – told ya I'd get my run in! I keep my promises
Speaking of promises, I also promised to do a little product review of Jillian's DVD and that's exactly what I'm going to do for you today!
Jillian Michaels 'NO MORE TROUBLE ZONES':
This workout is approximately 50 minutes, including warm-up and cool-down.  It's composed of seven 6-minute circuits that I promise will leave you shaking – in a good way! Each circuit has 5 exercises – targeting specific muscle groups- which are repeated twice. You can choose to do the entire 40 minute circuit or pick which circuits (trouble zone areas) you want to work on! It's pretty fast paced, but not as faced paced as her 30-day shred or Ripped in 30. She uses the same technique of working with more than one muscle group at a time (ex: squats with shoulder raises) to keep your heart rate up in order to maximize your calories burned. The amount of weights are dependent on your comfort level, but since you're doing many reps it's best to keep it light. I switch between 3lb – 5lb depending on the moves.
Warmup: Basic marching in place, jumping rope (no rope needed), arm circles, skaters and jumping jacks. Then you repeat the entire sequence for a complete five minutes.
Circuit #1- Shoulder & Legs
- Squat with Shoulder Press
- Backwards Lunge with Side Shoulder Raise (repeat on other leg – shoulders are on fire)
- Chair Squat with Front Shoulder Raise
- Front Shoulder PressOuts
Circuit #2- Chest & Abs
- Chest Press with a Crunch (lay on your back, when you come up for crunch you also do a chest press)
- Chest Fly with Double Leg Raise
- Bicycle Crunches
- Squirms (lying down with knees bent, lift head and shoulder blades off the ground and alternate bending to the side and tapping your heels).
- PushUps
Circuit #3- Biceps & Butt
- Deadlift with Hammer Curl
- Static Squat with Concentration Curl
- Front Lunge with Wide Grip Curl (repeat on other leg)
- Side Lunge with Biceps Curl
Circuit #4- Thighs & Triceps
- Chair Pose with Triceps Kickback
- Sumo Squat with Overhead Triceps Press
- Surrender (step back and down to kneeling position then stand up again)
- Forward Lunge with Triceps Pushback (repeat on other leg)
Circuit #5- Core
- Double Crunches
- Twisting Plank
- Plank with ToeTaps (repeat with other leg)
- Windshield Wipers (lying down lift both legs and move from side-to-side)
Circuit #6- Upper Body & Core
- Plank with Back Rows
- Superman
- Scissor Kicks
- Pelvic Thrusts (repeat on other leg)
Circuit #7- Lower Body & Core (body weight mat exercises – my fave)
- Side Plank w/ oblique raises
- Side Lying Leg Raise
- Inner Thigh Raise
- Donkey Kicks
- Fire Hydrant with Kick
Done! Now cool down.
This is probably my favorite of all her videos – they're all fantastic! I highly recommend this workout for anyone who doesn't like to do weights at the gym. The circuit style workout makes it go by fairly quickly, keeps you from getting bored and keeps your heart rate pretty high! It is longer than her other videos, however you don't have to do them all in one day. If you don't have the time I suggest doing the first 3 circuits on Mondays and Wednesdays and the last 4 on Tuesdays and Thursdays.
Today's morning interval run:
Increased my mileage by another .10 woo hoo!
Interval Run:
Warm-up 2 minutes @ 3.5
Repeat this interval below 7x for 28 minutes:
Jog 2 minutes @ 5.5
Run 1 minute @ 7.0
Walk 1 minute @ 3.5
Cool-down 2 minutes @ 3.0
Here's another awesome looking shredmill workout posted on PBF's blog: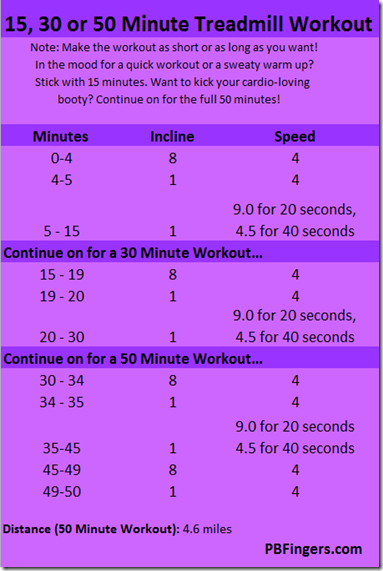 I love switching up my interval runs because it keeps things from getting boring on the shredmill! I like that you can make this a short run or a long run, too!
Moving on to my favorite subject, food!! I have a few product reviews in this area too
First: Please forgive the poor quality photo, it was taken in a fast moving vehicle.
Nutrition Facts:
This is super easy to make. It literally takes 15-18 minutes tops! You boil 1.5 cups of water, pour in the quinoa, bring down to a simmer and cover for 15-18 minutes. Bam! The nutrition facts are pretty awesome, too. A whopping 6 grams of protein per serving (1/4C dry yields approximately 3/4C cooked) which is enough to fill you up! However, if you're not a fan of bold flavors I suggest either sticking to plain quinoa and spicing it yourself or using half of this packet and half of plain quinoa to balance it out.
My lunch for the week: Quinoa w/roasted veggies and a lean protein of choice (not pictured)
And my new love:
My life has forever changed. Okay, I'm off to make my mid-morning snack because I'm hungry looking at this picture.  Two slices Ezekiel toast w/ almond butter and 2 egg whites coming right up
Ciao!
Tags: almond butter, hiit, jillian michaels, product review, workouts